Sure. Everyone good business knows and understands the value of having a strong online presence but how many are actually TRYING. How many of them actually don't have the "I don't care attitude…" which seems to be the direction most business owners take after having an initial website for their business setup.
Unfortunately, the "I don't care attitude…" has become all too common these days. What most business owners making their first leap into the digital realm don't realize is being successful online takes more than a one-time setup like their new website takes. Being successful online takes discipline, persistence, hard work and most importantly…CREATIVITY.
So what am I talking about you ask?
---
It takes more than just having a website.
Every place your business information appears online is connected. This is the first thing every business owners needs to understand. Simply staying active on your website and website alone isn't going to drive traffic.
From your website to your social media presence to your local directory listings; the online presence for your business is all tied together.
SO GET ON THEM!
Basically, this means simply focusing on one like many businesses do – just the website – isn't exactly the ideal route to take. But why would you want to anyways? By ensuring your business has a large presence across the Internet utilizing everything from your site's blog to Facebook to YouTube and more, you can also ensure your business is maximizing its online reach.
UPDATE! UPDATE! UPDATE!
One of the easiest ways to begin seeing an increase of web traffic to your site is by keeping it updated. A stagnant website is boring. It doesn't entice users to click through pages and ultimately, a lack of updates can definitely have a detrimental effect on your online presence.
Perhaps the easiest as well as tried true way to keep your site updated regularly is by utilizing a blog on it for updates. Not only does it keep your site fresh in the eyes of the search engines, but it also allows your visitors to enjoy new content on a regular basis directly related to your business.
I got 99 problems but a local listing isn't one.
One of the things which never ceases to amaze me is the never-ending line of small businesses who aren't taking advantage of setting up local listing information online. I'm talking about the most basic of information: Business name, address, phone and website URL. Believe it or not, many businesses don't even try to make sure this information is not only correct but even being listed at all. The funny part is many of these same business owners who are guilty of this have no problem spending top dollar on an add with YellowPages.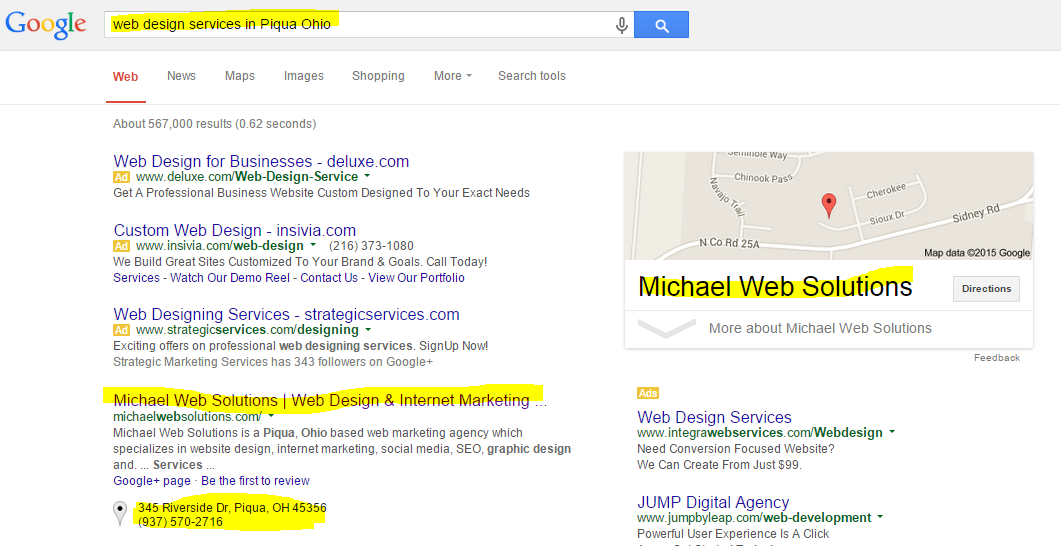 Think about it! These days when someone needs contact information for a business, what do they do? I can assure you one thing that for a majority, it's not looking through a phone book for it. Most individuals use this neat, awesome little device called a SmartPhone.
By ensuring your local listing information is showing up accurately and consistently across the slew of online local data aggregators out there, you in turn make sure those looking for your services and products related to your business can actually find you.
---
Don't Put All Your Eggs in One Basket
Remember this is only a brief guide to some of the basic foundations of starting to develop a strong online presence for your small business or company. Ultimately, one of the best bits of advice I can give is to not put all of your eggs in one basket. By this, I mean don't simply just focus on your website. Don't simply just focus on social media. Don't just focus on your local listing information.
Focus on all of them and you'll already have won half the battle.